'Why should your office be an office?'
Author: Casper Schwarz, October 2020
This year has proved to be all about transition. Personal transition, society transition and digital transition. Transition in architecture was already in vogue before the pandemic started. Now there are more reasons than ever before to push hard on the revaluation of buildings. During the past 120 years, architecture in general has walked a very awkward path. After modern constructivism was born early last century, architects became increasingly obsessed with simplicity. The love for composition, detail and the added  values of craftmanship were replaced by modularity, basic shapes and repetitiveness. The required efficiency during the post-war reconstruction works and the futurism of the 70s pushed this simplicity to its extremes. By now we all know what impact this has had to our cities and our living environment. Don't worry, this is not a plea for classic architecture. I recognize that new, green, and exciting architecture is evolving, but let's celebrate the reappreciation of soulful buildings. Now that digital work and communications allow us to work and live freely, the re-use and transition of characteristic buildings is hot. This combined with our remote working skills leads us to the question: Why should your office be an office?
This year, 2020, has brought a major shift in our needs for offices as such. The common idea that people work in offices as much as possible is suddenly outdated. Presence at the office is not any longer the standard. Delivering your output is. A new culture of freedom appeared in peoples lives and careers. As a result, the endless rows of work desks we see in most offices are empty now and most likely half-empty post-Covid19. Next to that, the office is transforming into a place that attracts people, unifies the employees, and reflects the human face of a company. Our philosophy "The Habitoor" on www.habitoor.com is reflecting on this aspect.
Offices transformed to apartments
Transforming characteristic buildings to working buildings would be a great way to add value to this magnetic effect. Hotels have shown us the path in creative ways. We selected some great examples of successful transitions that affirm how the quality of architecture and new functionality blend perfectly. Firstly, developer De Nijs has had a clear forecast: After 8 years of vacancy green light was given to transforming 47.000 m2 of office space into 300 comfortable apartments: The Mayor project in Amstelveen (the previous HQ of KPMG). A type of transition that is most likely to be repeated on a large scale. Source: https://mvds.nl/portfolio/residence-amstelveen/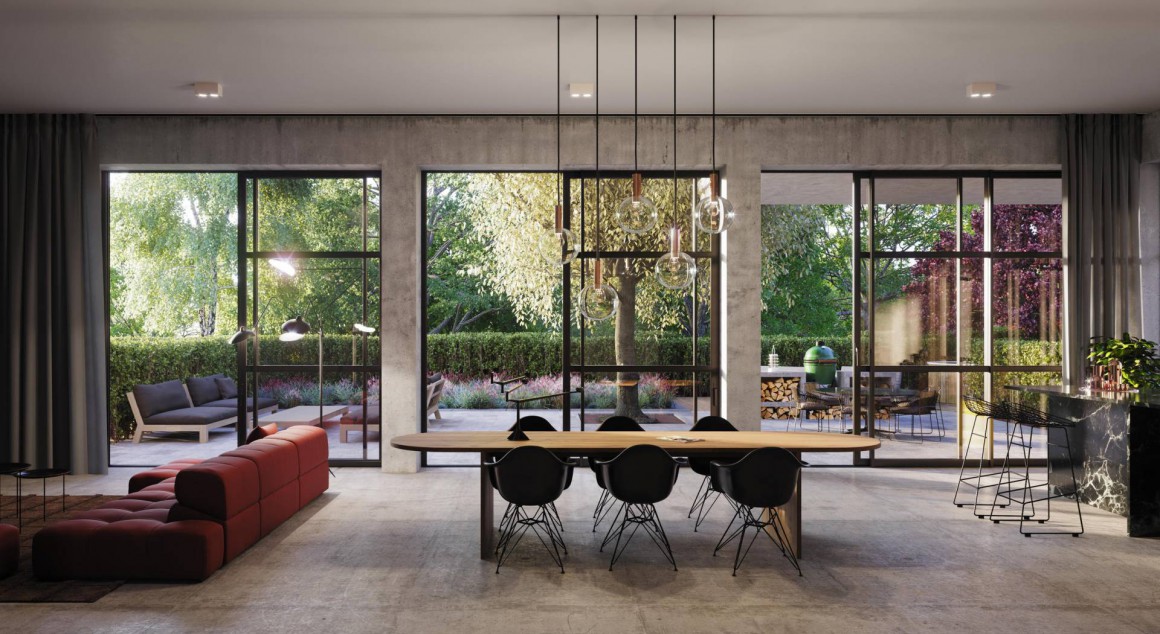 DePetrus church Vught NL
Early 2018 the "DePetrus Church" in Vught has been given a new and attractive blend of functions: "DePetrus chruch became a people's meeting center, an integral concept of the De Meierij Library, Vughts Museum and the 'Anders Bezig Zijn' Foundation. The idea was to create a marketplace, a meeting place, an exchange place. Visitors are invited to walk through DePetrus, experiencing the space, enjoying the beautiful light, sharing insights and knowledge. There is also a new restaurant 'Hemels' (Heavenly) with the 'Petrus Garden' next to the reading café. The church found a new way to do what a church originally does: create a sense of belonging and togetherness amongst the people. Source: https://www.burokade.nl/projecten/de-petrus/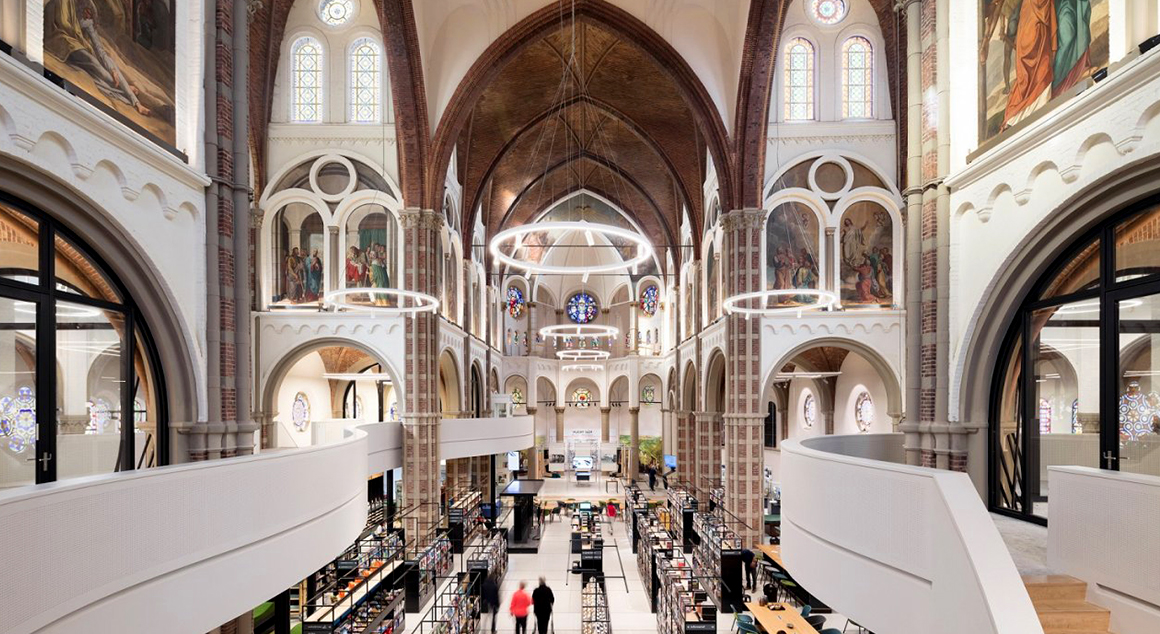 Werkspoorfabriek Utrecht NL
In this 175m long former factory hall large-scale steel structures were built for road and hydraulic engineering. It was abandoned for many years. Zecc Architects created a multi-tenant creative melt pot in it: The Werkspoorfabriek houses a range of creative studios of photography, graphic and web designs, game development, and architects. Combined with larger companies such as Broeinest and brewery De Leckere. The companies together form a community in the creative sector and the manufacturing industry. There is a coffee bar, lunch catering, and event space to stimulate encounters between different companies, which focus on the learning process of "making". Source: https://www.zecc.nl/nl/project/2024/Werkspoorfabriek-Utrecht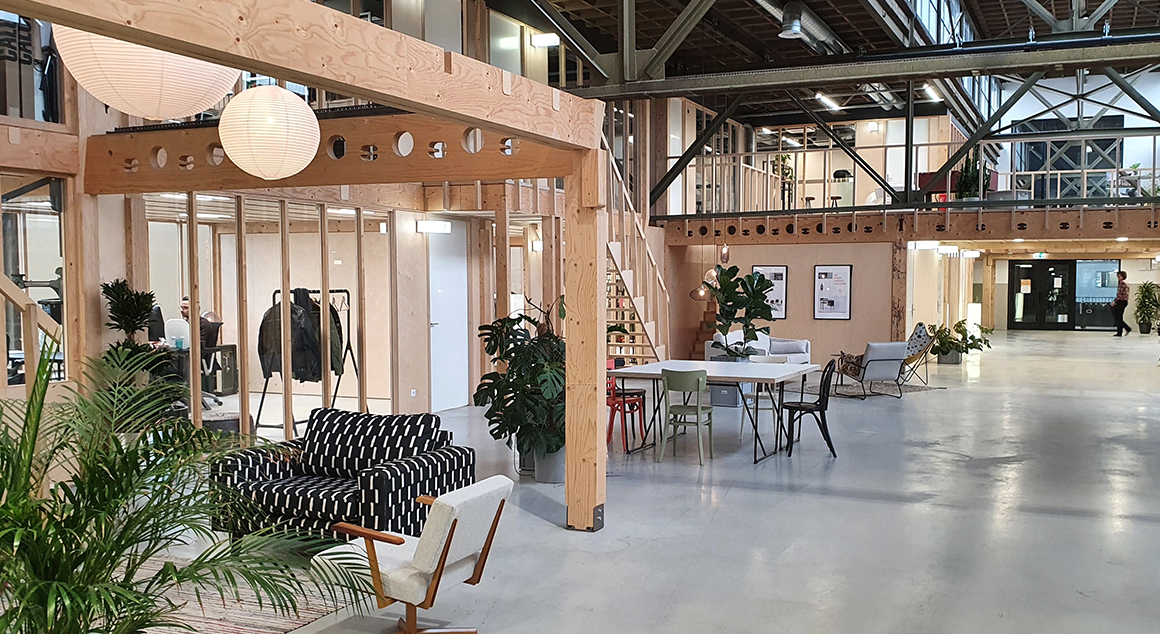 Fosbury & Sons in Prinsengracht Hospital NL
Fosbury & Sons has completely transformed this former Prinsengracht Hospital, a 175-year-old monumental building in the heart of Amsterdam, into an elegant coworking space respecting the building's old structure. Contrasts take the center stage: old vs. new, classic vs. modern. Prepare for an Italian palazzo vibe: beautiful arches, marble, rich fabrics & soft hues. You can have it all here: host your meeting in the Boardroom, enjoy the breathtaking view over the canals or drink your coffee in the relaxing garden. The sterile atmosphere of a hospital has transformed into a warm and homely collection of spaces. Source: https://fosburyandsons.com/prinsengracht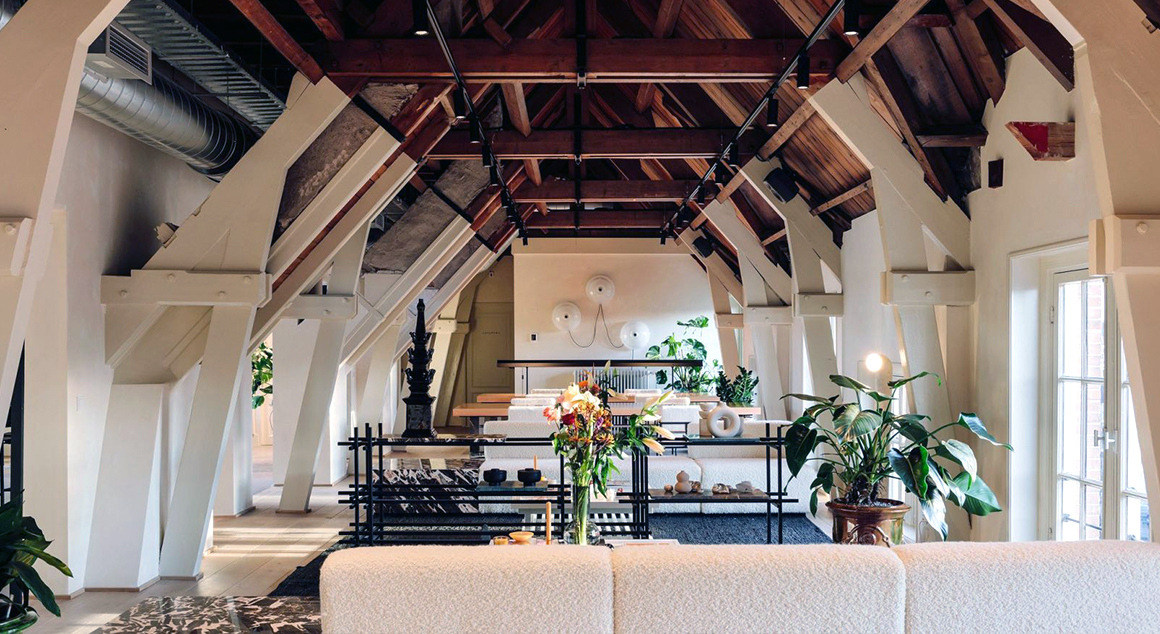 Invitation
These are great examples of how to bring new life and synergy to buildings that do have meaning and radiation to their environments. Getting back on office buildings and the renewed function they will fulfill, you can ask yourselves the question: Does your office have to be an office? Can it be a totally different type of building or space? Can it be a place that is waiting to be rebooted and brought back to life? Can it be a place that may not be ultra-flexible but adding charm, vibes, and character to the identity of your company? Restaurants, warehouses, workshops? This new horizon and culture of freedom at work gives us a chance to make our working and living environment more coherent, more human, more civilized than ever before. Start evaluating which location would suit your people best. What type of atmosphere would attract them and connect them mostly? What qualities is your current office lacking and how can these be improved?
In line with our Habitoor philosophy, we invite you for a brainstorming session and discover together about "Why should your office be an office?" Use the contact form below or send us an email at info@casperschwarz.com