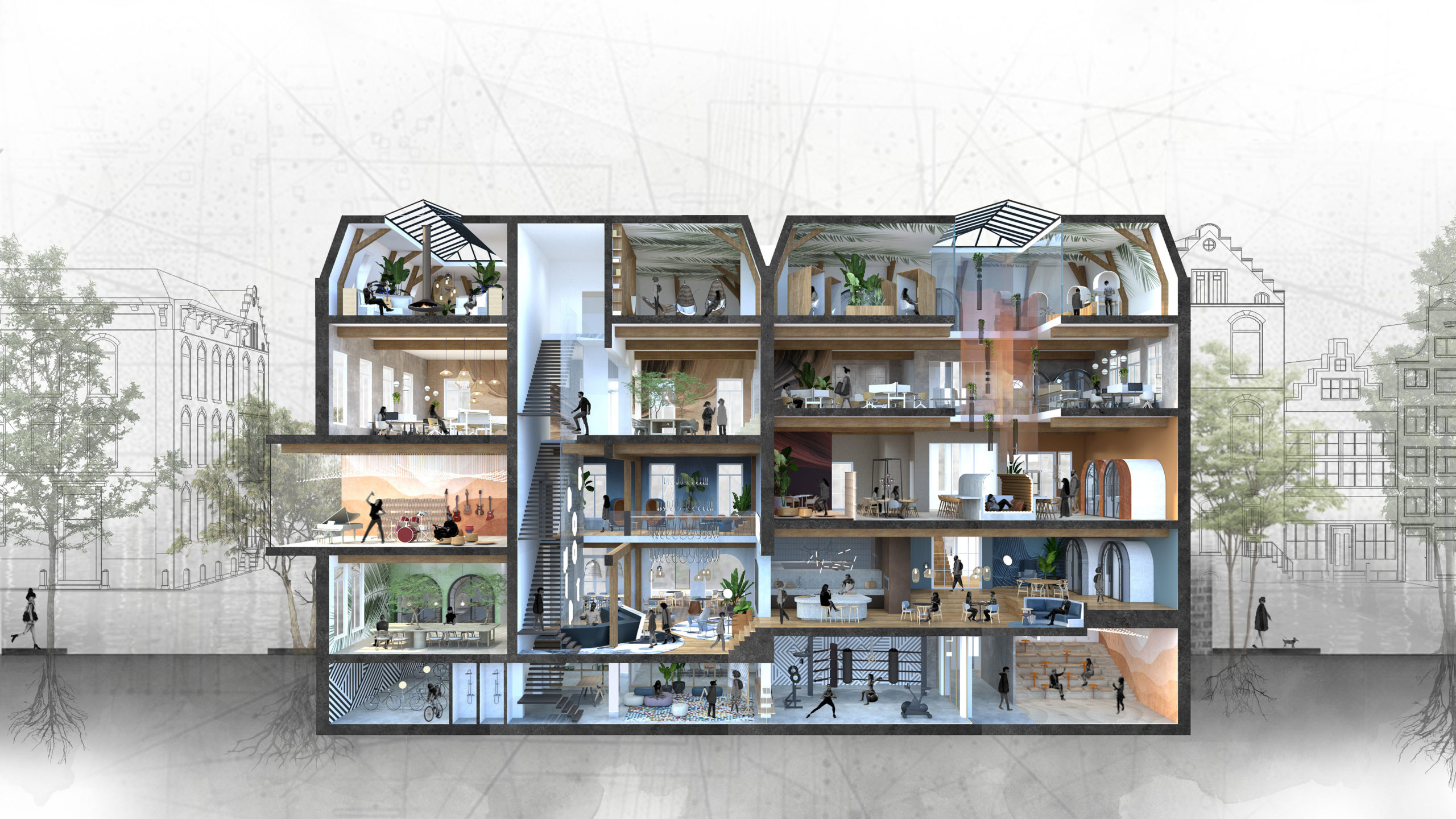 THE HABITOOR 'The new Home Base of your organization'
Author: Casper Schwarz, May 2020
The "Office" is gone. It caught a virus and after a few months we waved it off. In the same three months, working has made a leap of 10 years of evolution. Working in an office is not the basis any longer. Working at home, organizing your day yourself, and meeting each other online appears to be more suitable than we thought. Leisure and work suddenly mix up. Meanwhile, we have found our personal drives and habits to take responsibility for our output. So the question is: "What have we been doing for all these years?" If there is one moment in time to review our way of living, working, and housing, it is right now. In a new kind of workplace. The Office is gone, the Habitoor is born.
In recent decades we have been busy making our offices anything but an office. Rightfully so, as the obvious image of an office is an inhumane place with reception desks, waiting areas, pantries, copiers, paper bins, filing cabinets, carpet tiles, and suspended ceilings. You don't want any of that at home. So why would you like it at work? There have been many signs that something had to change drastically. The room structures evolved into various work zones with dynamic areas, regular areas, and quiet areas; the canteen became a restaurant and the coffee bar made its appearance. Planting became a permanent feature and informal meeting spaces were projected everywhere. Employees have been given the freedom increasingly to use the building to their own insights. But it's evident that we were all in a spasm, seen the fact that new working methods within the office were burned down just as quickly as they were introduced. The younger generation distance itself from the obvious. Startups work a lot online and have a hub to elaborate on. And the arrival of 'book your desk' at Spaces, Tribes, and WeWork locations already indicated a turnaround.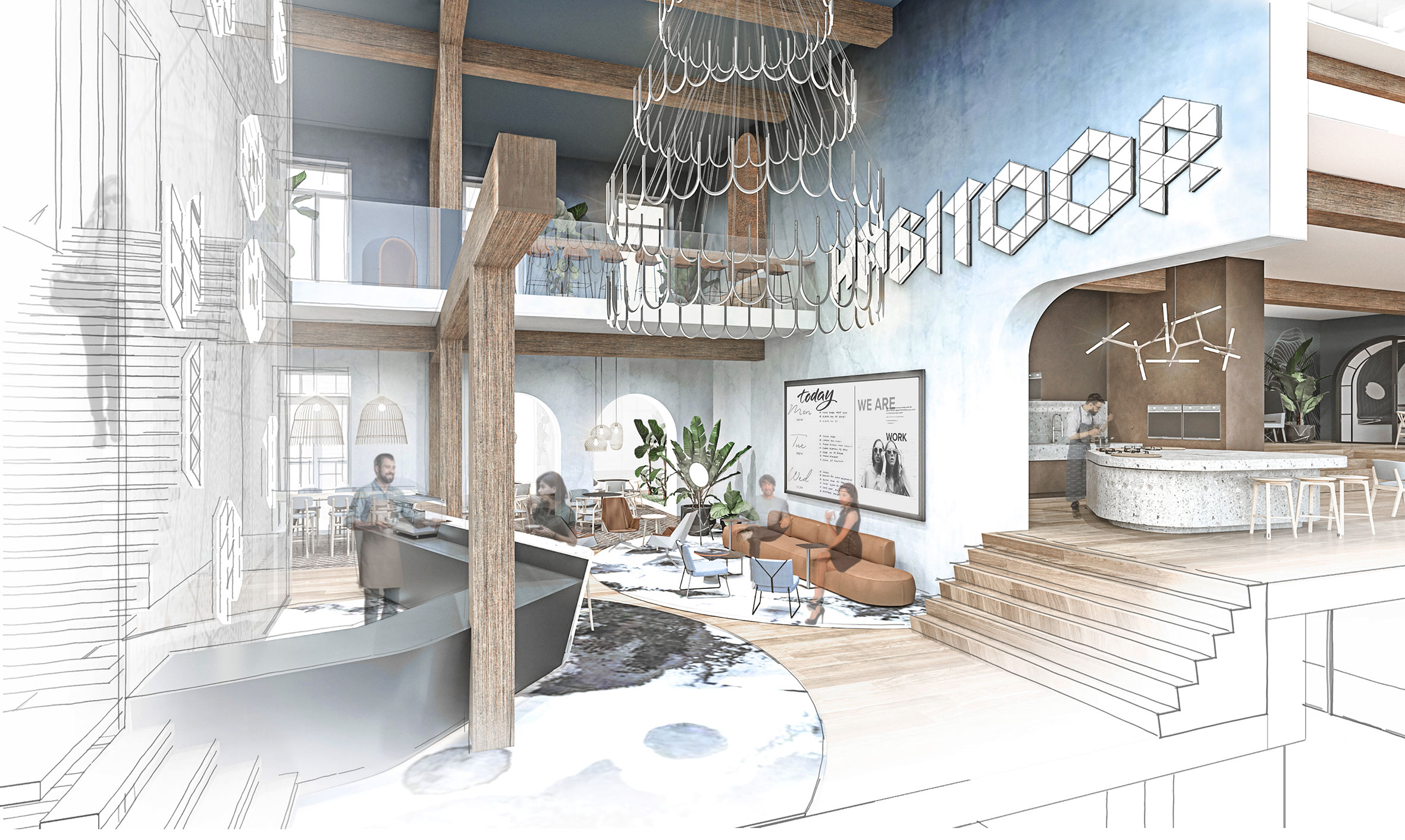 Own responsibility
In this sudden period of working full time at home, everyone has experienced how to take responsibility for your output. Employee management had already become a more free process in the flex offices, but now everyone has been able to show how well we succeed. During the past 3 months, private 'to-do-list' matters have been done in daytime, while some work has been finalized in the evening hours. Suddenly this is both possible and allowed. Seen from that perspective it is totally understandable that a solid percentage of people wouldn't mind to keep working at home for several days per week. Our weeks thus change from a clear separation between work and private times to organizing your life in a new manner. You can choose when and where you are working. The decision on which days you want to see your colleagues is a logical consequence. This new and free life offers so much extra quality for everyone that the motivation to perform will remain, if not improve. In addition, people will be given more freedom in choosing where to live. If you only go to the company one or two days a week, you can perfectly move a little further away. This means fewer people living in the cities, lower prices on housing and more chances to enjoy nature. This new work-life balance offers more responsibility, more freedom, and a wider spread of people across the country.
Connectedness and togetherness
The quarantine has not only shown us how self-reliant we are but also how much we miss the connections and solidarity with our friends, family, and colleagues. We all need to belong to groups. We enjoy togetherness and experience real-life interaction. That is also an important part of the work processes. Sharing knowledge, develop creativity, brainstorming and strategic thinking are things you don't just do on your own. Giving and receiving compliments, celebrating successes, or dealing with setbacks are matters you do together. So yes, there is definitely a need for a commonplace. A place where you really like to go. A place that becomes a natural part of your life and living environment. A magnetic and vibrant place. Picture ten places where you would love to go in your free time…  an office tower on the outskirts of the city is certainly not one of them. So, if we want to create that magnetic effect, we have to look for a new place, a new shape, and a new name. That place is called "The Habitoor".
Crucible
In biology, a habitat is created within a biotope. It literally means: "the natural habitat of an organism". If the organism is a collective of employees, the next question is: Where is their biotope? An organism settles in a place where the climate is optimal, where abundant food is available, where evolution can take place to its maximum. Translated into a working environment that would be: where people feel good, where you are being triggered and where you can integrate working with other matters in your life. Would you qualify an office tower as such? No, that is an artificial environment, born of efficiency, facility, sustainability, and traditional thinking. It is certainly not a natural environment, not a place where people excel in personal freedom. It is time companies no longer derive their imago from their corporate appearance but from their human face. The transformation from Habitat (your home) to Habitoor (the home of the organization) explains exactly what the new idea is: The Habitoor becomes a home base, a clubhouse, a connecting venue for all your colleagues. An extension where you can go whenever you want and do whatever you want. A melting pot where you meet, collaborate, discuss, think ahead. And where you show customers what the real nature of your organization is. The Habitoor doesn't need to be large. Yet very pleasant, and equipped with spaces and places to offer everyone their own working process. A meeting place in an attractive building, flanked with sufficient meeting spaces, work areas, and presentation facilities. Plus lounge areas, cooking islands, meditation areas, sports, and gaming facilities. The Habitoor becomes a part of your life, according to your rhythm and needs. At this point in time, we can make that jump ahead. We are now ready for it. Consider that not only the young creative companies were heading this direction, but see also the change processes in the traditional organizations. The ever-increasing digitization, the integrations of living rooms, the boxing balls between the desks, the omission of lowered ceilings, not to mention the beloved Casual Friday. All practices to ultimately say goodbye to the traditional workplace.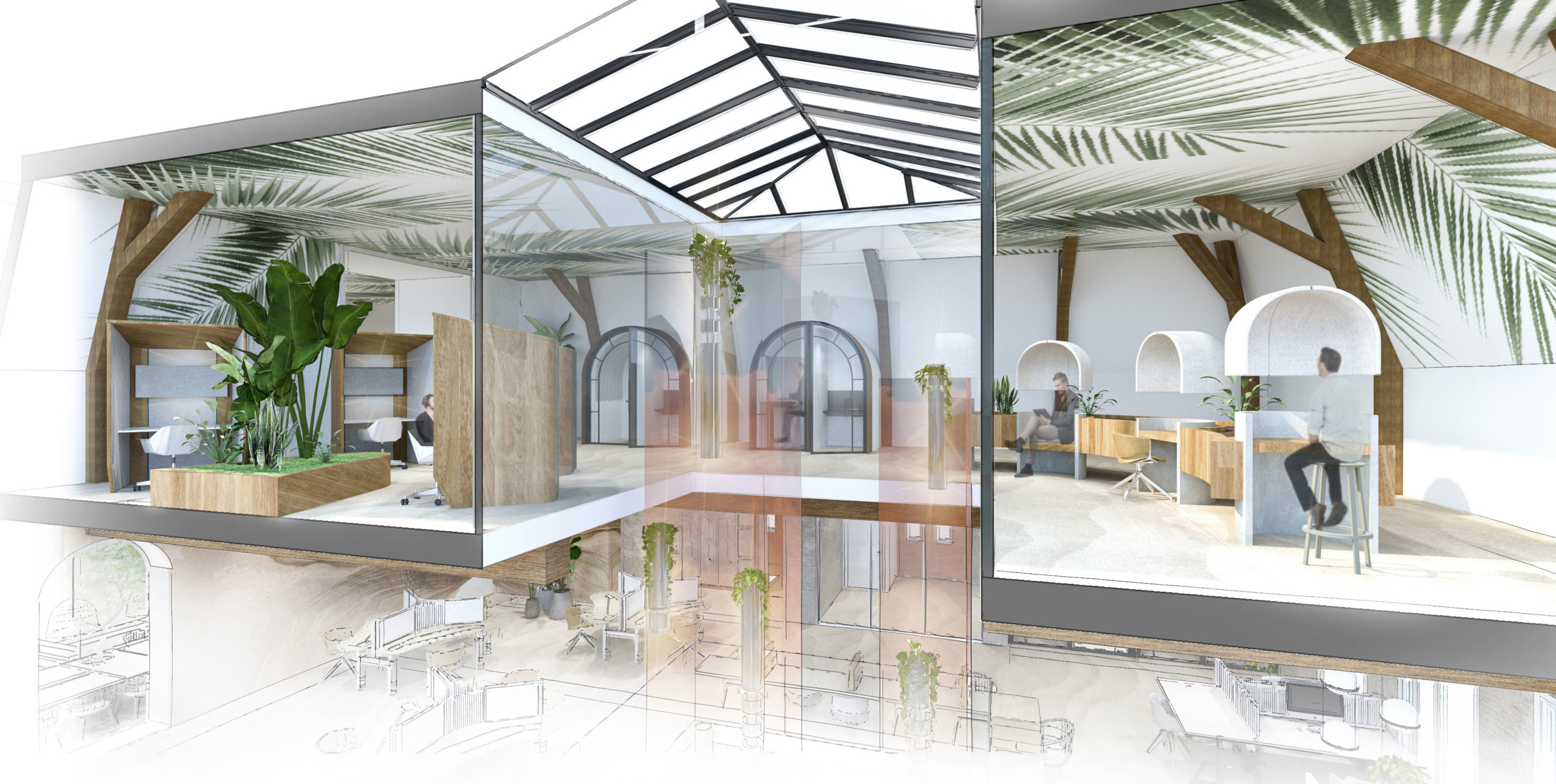 How do we jump ahead?
A few years ago we have designed an interior for a company that developed mobile phone apps. The employees said they wanted to be able to cook, exercise, game, and party at work. And when asked 'why?' they answered: "because we work at home as well". They just wanted to be able to do anything anywhere. A logical result: Happy employees, less absenteeism, and more space for individuality. A great opportunity for unconstrained autonomous group processes. Of course, people and groups of people need management. This will find new ways as well. Companies differ, so an Habitoor will have to be developed for each company separately. Yet the common thought will be the same. To start with quitting traditional thinking and start searching for a place that will really work magnetically for your organization. Create new compositions from a blank sheet and consider what functionalities should be brought together to offer a new balance for everyone. Architects and interior architects face a new challenge, and some trial and error will be inevitable. New connections can be made, integrality arises, and efficiency will improve. Restaurants, grand cafés, monumental buildings, churches, industrial workshops, old bank buildings, theaters, bathhouses, and modern buildings. Everything can be mixed up into various Habitoors at your choice. A wonderful challenge, mainly based on where people feel good. Where people get energized and feel free. For introvert and extrovert people and everyone in between. In the city, next to a park or somewhere at the waterfront. An environment where would you also go in your free time. A place where you can mingle other things in life besides work.
Culture
You may wonder to what extent we can get rid of the endless norms that have emerged over the years to make people function in an inhuman environment. Furniture standardization, for example, which are meant for working in the same place for a long time. These are no longer necessary. Complaints about climate control? In the past. Flex factor? That's no longer a factor. Huge cost savings can be achieved. The Habitoor will also become a training facility. A place where young talent is trained and inspired and where seniors enjoy their new freedom in the final years of their career. A place where synergy emerges in a natural way and where you are invited to think differently, share ideas, and present plans. In an open, creative, and proactive environment. The Habitoor will be a place where the culture of a company can be redefined. Not by 5 keywords or the so-called DNA, but by an interpretation that radiates the true character of the organization. Originating from and underlining human behavior. As culture once originated. This will affect cities as a whole. Hospitality and working will merge even more and mobility will definitely go through a metamorphosis. If we manage to make the inner cities car-free zones in the near future, a new quiet, clean and lively center is created. With more freedom, more quietness, more green, and a lower carbon footprint. Living and working will naturally mix up, 24/7. A natural habitat for humans, the Habitat, and the Habitoor in a park-like biotope. Be a pioneer and think along!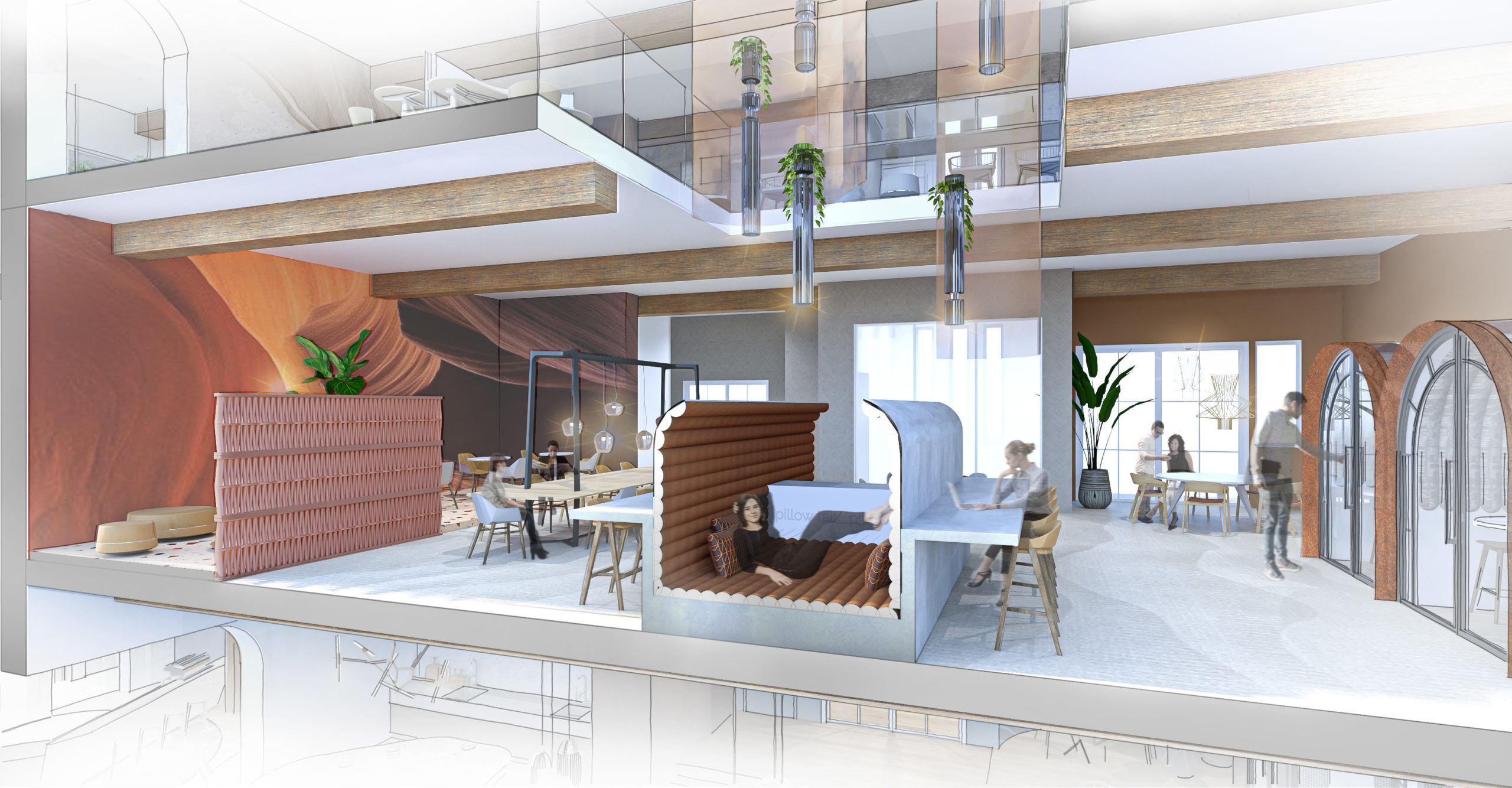 The Habitoor new 'Home Base of your organization' is a concept in development by Casper Schwarz Architects. Our creative team: Casper Schwarz, Amy Wanders, Marit Willems, Elaine Keet, coworking with Nick Roemer (UK), Anthony Grey(UK) and Nahshon Pinto (Australia)
Contact us for futher information or a free knowledge sharing session.
Casper Schwarz is available for lectures and inspiration sessions about the Habitoor.
Direct bookings or information via the contact form or call +31655302924